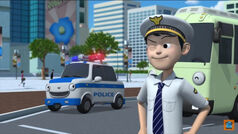 Rookie is a policeman because he was kind and friendship to Hana.
He was born in Seoul
Rookie is now a loyal Korean police officer and the leader of the Emergency Center.
His real name is Kyung Jae-song
His birthday is on August 14, 1989
Relatives
Edit
Soon Min Yin (mother) (deceased)
Kim Sul-jong (father) (deceased)
Tsu Jing Yin (brother)
Aiko Lin Yin (sister)
Joon Su (nephew)
Cherry (Chae Yong-bae) (daughter)
Hana (Myung Soon-jin) (wife)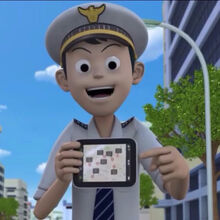 Rookie he's a Korean.
He studied at Yonsei University.
In "The Treasure Is Mine!" Rookie when he was a younger age. In English he has a male voice, but in Korean he had a female voice.
Also available in Tayo the Little Bus: Take-n-Play.
He is also a singer.
In the future appearance, he has a black eyeglasses also called him "Sci-Rook"