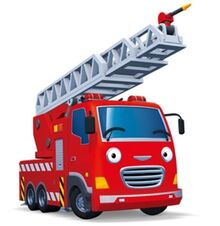 Frank is a red Fire Truck Who Loves to Squirt Water from his hose to Get Rid Of fires.
In "Make Up, Frank and Alice he divorced with Alice for being late and got back together in the end of the episode.
He Is not very intelligent and often ends every sentence with"-A.
Quotes:
"PLEESE MOV OUT OF THE WAY-A!!!"
"I WIL PUT OUT THIS BYOOTIFUL FIRE-A!!!"
"I AM BETER THAN TAYO ANYWEYS!!!"
"HEY!!! KID!! DO YOU HAVE A FIRE HOSE-A I CAN TAKE!? THEY ARE SO GEWD AND TASTY!!!"
"WAIT-A!!! HOW DO I TURN MY SIREN ON AGAIN!? WAIT A SECOND!!! I CAN JUST MAKE SIREN NOISES WITH MY MOUTH!!!"
Frank is a fire truck who works with Alice when there is a fire. He is not very serious about his job.
He will get a makeover. He will still be a fire truck, but with a blue siren, brown eyes, a licence plate reading "FR4NK", a sign on his back saying "STAND BACK, KEEP CLEAR" and will be voiced by John Hasler in both UK and US.
He got trapped in a burning building and turned into Phantom Frank, Who has a very similar Appearance to the Phantom Animatronics from Five Nights At Freddy's 3.